When you start up your Windows 10 computer, you may see a black pop-up window titled C:\WINDOWS\system32\cmd.exe. Eventually, the prompt will disappear, but you will notice a slowdown in your computer's performance, as reported by affected users. In this article from IR Cache, we will provide you with the most suitable solutions you can try to prevent the command prompt (CMD.exe) that always pop up in Windows 10.
The cmd.exe file itself is a software component of the Windows 10 operating system. The cmd.exe file launches Command Prompt, the command line interpreter for the Windows operating system.
If you encounter this problem, you can try the recommended solutions below, in no particular order, and see if that helps solve the problem. Let's look at a description of the process involved in each of the solutions listed.
Why does the command line (CMD exe) keep showing up in Windows 10?
Although computer users say the problem doesn't seem like a big deal, it still annoys many users. The tooltip randomly appears and disappears within a second, which can confuse you while browsing the Web, playing games, or performing other tasks on your computer.
In the following situations, the CMD may appear repeatedly:
The first time you log on to Windows, such as with Windows 10.
While using the computer, such as when playing video games.
Why does the command line open randomly? There are many factors that can cause this, including:
Legitimate MS Office software in your task schedule.
Malicious software.
Bad sectors.
Let's move on to the following content to solve this pesky problem.
How to solve the problem of the Command Prompt (CMD exe) that Always Pop Up in Windows 10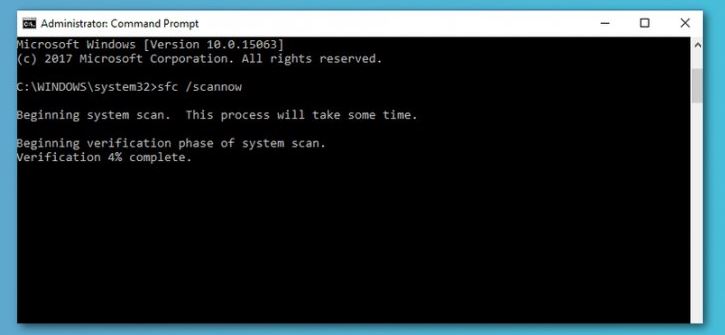 Launch SFC
SFC, known as System File Checker, can be used as a tool to scan all important Windows files on your computer and restore them if necessary.
Missing or corrupted system files, such as DLL files, can be the cause of the CMD.exe error that keeps popping up in Windows. Let's see how to run SFC to fix the CMD.exe error on your computer:
Press Win + R -> type: cmd and press "OK" to bring up the command prompt;
Type: sfc / scan now and press Enter ;
Reboot your computer after analyzing and check if the CMD.exe problem is resolved.
Start a clean boot
Here we will show you how to clean the Windows 10 boot and, as an example, clean the boot of your PC. Don't forget to log in to your computer as an administrator to perform a clean boot.
Click "Start" and search for: msconfig -> select "System Configuration".
In System Configuration, click "Services" -> click and select "Hide all Microsoft services" -> click "Disable all".
In System Configuration click "Autorun" -> click "Open Task Manager".
In the system configuration, select "Autorun" and click "Disable" -> close "Task Manager".
Click on "OK" in the "Startup" tab of the system configuration -> restart your PC.
In this way, your computer will work normally again and you will see that the CMD window is no longer displayed.
Repairing damaged sectors and cleaning viruses
If your system partition contains corrupt sectors or is infected with an unknown virus or malware, CMD may stop working properly. Therefore, another way to solve the CMD problem is to repair corrupted sectors with partition management software and clean your computer from viruses with anti-virus software.
Select the target partition where the problem occurred.
Select Advanced -> Check File System.
In the Check File System window, check the Attempt to fix errors if found option.
Click Start to check the partition for errors.
Download and run anti-virus software on your Windows computer to remove any viruses or malware that are causing the CMD error to appear unusually often.
After that, restart your computer and check to see if everything on your computer is now working properly or not.
Frequently Asked Questions